O U R  F O C U S
Community Investment Grants are available to organizations* in River Valley United Way's service area (Pope, Johnson & Yell Counties) offering programs in the following focus areas: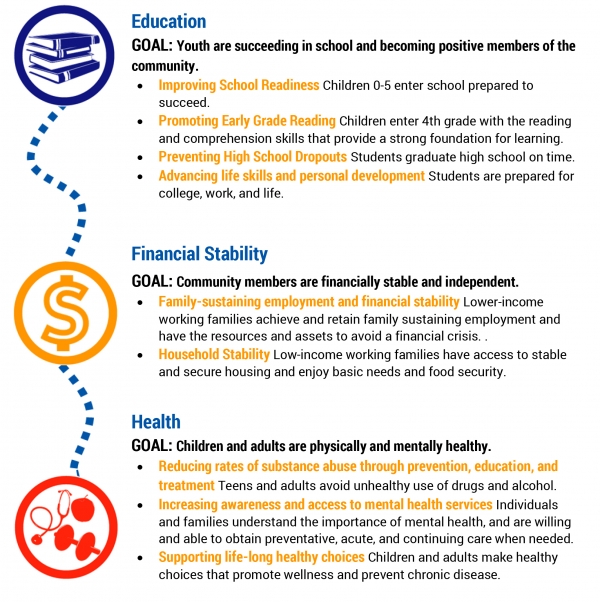 *Other requirements apply
E L I G I B I L I T Y
RVUW will consider funding for organizations that:
Provide programs supporting education, health, or financial stability and serve residents in Pope, Johnson, or Yell Counties
Demonstrate their program's benefit to local residents, whether the service is an independent agency or part of a national group. 
Provide ample and reasonable evidence to substantiate the need for and effectiveness of its program, including but not limited to outcome measurements and demographic data on those served.
Are recognized by the IRS  as 501(c)3 or have a similar tax exemption, such as a school district or unit of county or local government, and have existed for a minimum of two years at the time of application.
Maintain records and monitor the use of United Way funds.
Comply with anti-terrorist funding in accordance with the USA PATRIOT Act.
Has a local Board of Directors (unpaid, term-limited) who meet at least four times a year.
RVUW will NOT consider funding for:
Individuals
Religious organizations, if their activities serve only members or promote a particular religion or denomination
Lobbying efforts meant to influence legislation
Programs in operation for less than one year.
Organizations in operation for less than two years.
Direct support for travel by individuals or groups unless it is a critical component of an eligible program, such as transportation for the elderly and disabled.
Advertising other than that which makes the public aware of available services.
Endowment or capital campaigns.
Athletic associations or teams.
Fundraising, testimonial events or dinners and related activities like silent auctions, raffles, or telethons.
Additional Applicant Requirements
Agency and Program budgets, including salary disclosures (by staff positions only).

Agency site visit for all applicants

All applications and supporting documentation are accepted online only. 

Applicants may apply for funding for one program.
Additional Community Impact Notes
The RVUW Community Impact Committee is comprised of local individuals who review all applications and help make annual funding decisions.  

The total funding available depends on the overall success of the annual United Way fundraising campaign.

Applicants are encouraged to request funding for what is needed to support their program(s), keeping in mind that the application process is highly competitive. Funding awards will vary based on 1) available funding,  2) quality of the application, 3) program outcomes, 4) site visit, and 5) adherence to the RVUW Memorandum of Agreement (if current partner).

Funding is requested, awarded, and designated to specific programs only.  Program administrative costs may be acceptable expenses as disclosed in the application.

United Way provides year-round training, advocacy, managerial and volunteer support for all Partners in addition to allocated funding.   We are here to help!

All partners are eligible to receive designations through the annual RVUW campaign, yet cannot solicit designations for their agency.  
I M P O R T A N T  D A T E S
June 2023 - Grant Workshops. Workshop attendance is required as part of the application process. 
July 2022 - Application Available online
August 31st - Application Deadline
September & October - Site Visit Period
September through December - United Way annual fundraising campaign
January 2024 - Grant award notifications
The deadline to submit the 2024 application is Thursday, August 31st, at 11:55 p.m. Late submissions are not accepted.
H O W  T O  A P P L Y
Submit the form below to get started.
Attend a training session - training session attendance is mandatory for all applicants. Organizations must send at least one representative to one training session. Choose the date & time that works best for your organization. You will receive the registration links via email. (This is not an automated email if you saw the confirmation of your submission, then we have it and will be in touch).
Complete your application - The online application will be available August 1, 2023, and must be submitted before 11:55 pm on August 31, 2023.
Host a site visit - The program site visit period is September to November 1st. All applicant organizations may request a site visit. The Community Investment Team may request site visits even if the organization did not request one.
Promote United Way! - All applicant organizations are encouraged to promote our annual fundraising campaign. Current grantees are required to promote the annual fundraising campaign and their partnership with RVUW. The only way we can award more grants is to raise more community support!